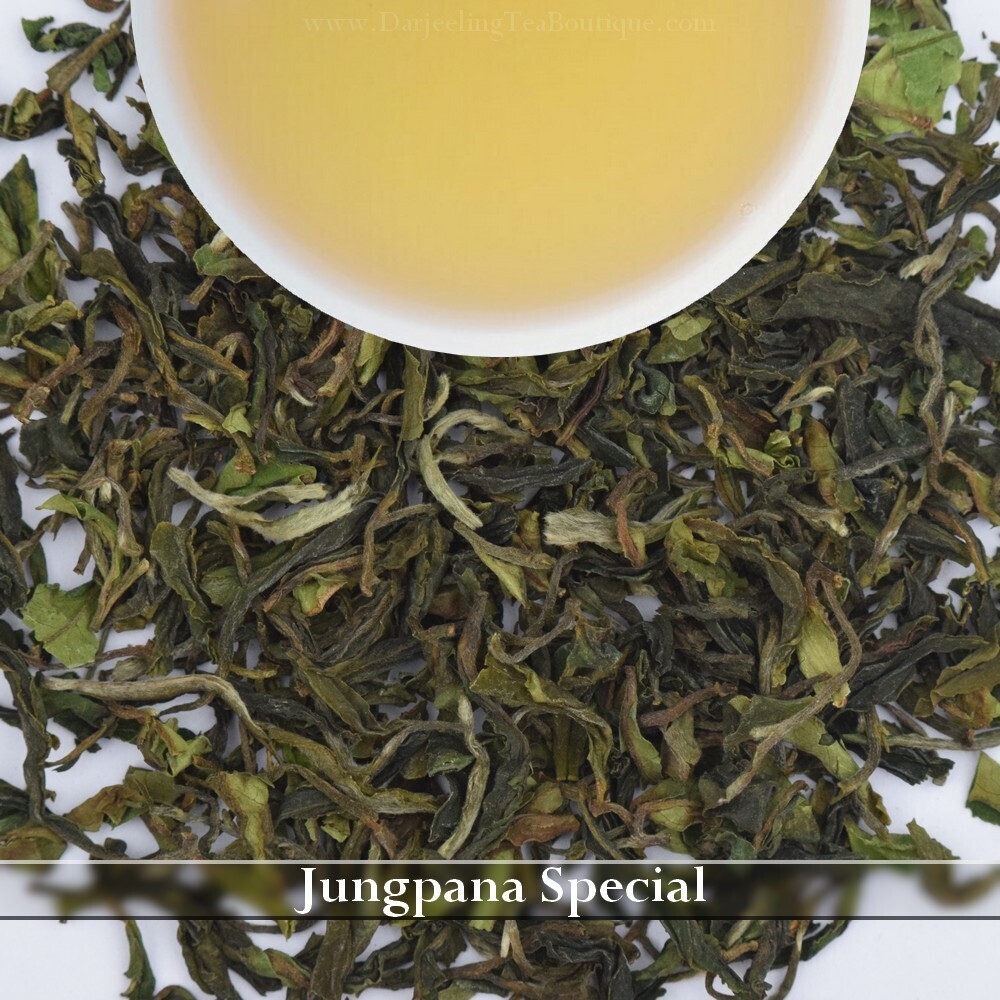 JUNGPANA SPECIAL
SKU FFJP22
Product Details
[tab name='Details' icon="info"]
SKU: FFJP22
Origin: Darjeeling, India
Type: Black Tea
Cultivar: China Cultivar
Grade: SFTGFOP1
Organic: 100% Organic
Garden: Jungpana
Flush: First Flush
Year: 2022
Weight: 50g (1.76 ounce) [20-25 cups]
Manufactured: Mid March 2022
[tab name='Description' icon="fa-align-justify"]
Dry Tea Leaf:

Appearance: A combination of dark and light green leaves delicately rolled into thin wiry leaves, make up the look of this artisanal offering from Jungpana. Presence of silver tips noted and adds to the overall fragrance and flavour of the tea.
Fragrance: Dry leaves have a musk like sweet fragrance with hints of tropical flora .
Liquor:
Appearance: Clear liqour, bright shades of the late sunset with golden hues.
Fragrance: The tea has fragrance of natural musk, coupled with sweet floral fruity notes.
Flavour: Sweet caramelized musk like notes with mild astringency and mellow taste is felt which settles as sweetness of summer tropical fruits. Gradually, this taste becomes more pronounced and leaves floral feel and fruity sweetness of ripe grapes as an aftertaste. A perfect tea with complex taste from the early 2022 manufacture.
No. of Infusions suggested: 2

[tab name='Garden' icon="fa-pagelines"]
Jungpana is an organic tea garden located in the Kurseong valley and is prized for its top graded teas world over. It is famous for both the clonal teas as well as for its Chinary cultivar teas. This organic garden is at an elevation of 1000 meters to 1500 meters.
Certifications:
[tab name='Brewing' icon="fa-coffee"]
| | | | |
| --- | --- | --- | --- |
| | | | |
| 200ml filtered water | 90°C to 95°C | 2g to 2.5 g | 3 to 5 minutes |
[tab name="Shipping" icon="fa-gift"]
Order processing time 24-48 hours.

Free shipping for order total above USD110

Orders are shippeed either by DHL, Fedex, UPS or Postal service.
[endtab]
Save this product for later