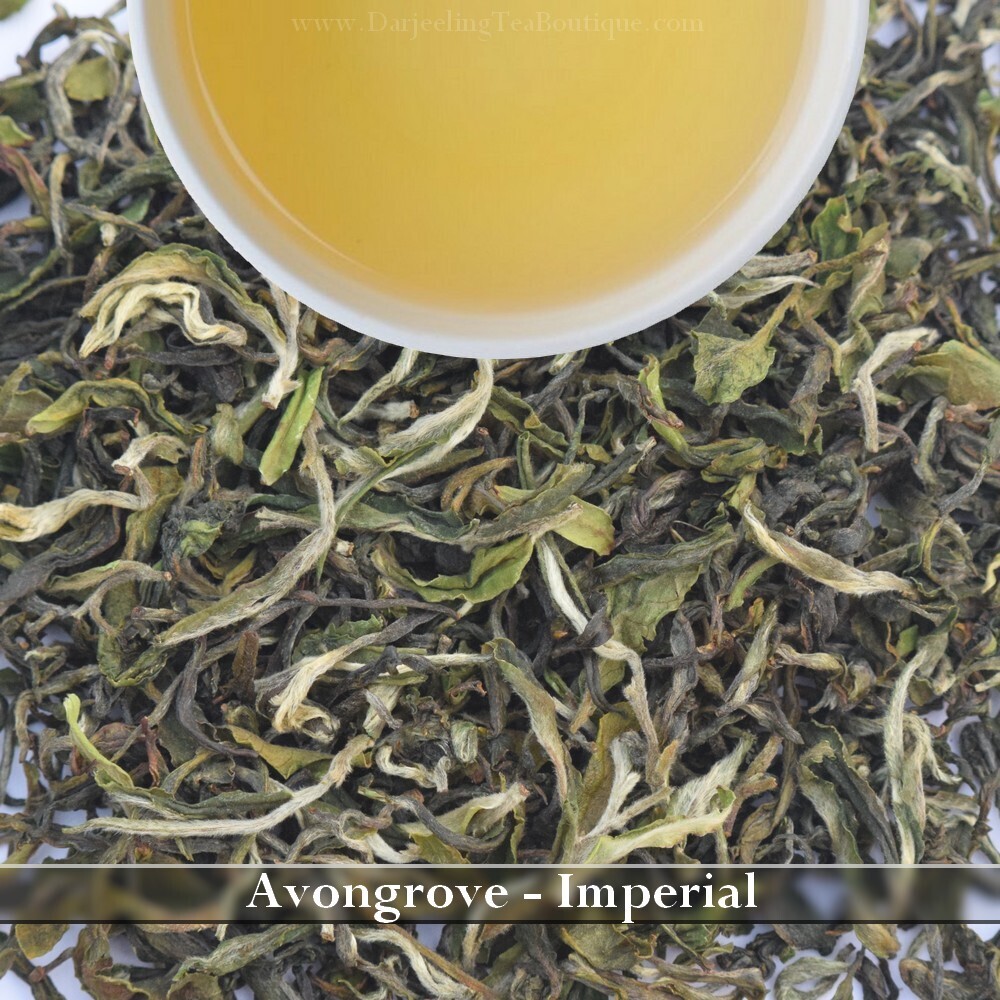 AVONGROVE - IMPERIAL
SKU FFAVG22
Product Details
[tab name='Details' icon="info"]
SKU: FFAVG22
Origin: Darjeeling, India
Type: Black Tea
Cultivar: 100% AV2
Grade: SFTGFOP1 Clonal | Imperial
Organic: 100% Organic | IMO JAS
Garden: Avongrove
Flush: First Flush
Year: 2022
Weight: 50g (1.76 ounce) [20 to 25 cups]
Manufactured: Mid March 2022
Invoice no.: EX3
[tab name='Description' icon="fa-align-justify"]
Dry Tea Leaf:

Appearance: Tea leaves are distinctly fragrant with a typical flora character, relating to Himalayan orchid and wild flowers. Such fragrance is characteristic of clonal teas, specially AV2 teas, from Avongrove tea estate. The leaves are fuller in size comprising of the buds and the two leaf structure. Colour is a mixture of light and dark green delicately rolled into thin wiry leaf. It consists of silver tips in plentiful which accentuates the look of the made tea and adds that unique flavor to the liqour.
Fragrance: Dry leaves have a sweet floral fragrance coupled with other wild flowers which is fresh to smell.
Liquor:
Appearance: Brighter shades of sparkling light lemon.
Fragrance: Distinct fragrance of Himalayan flora and wild flowers are noted and can be felt as soon as we take the sip. The fragrance engulfs the olfactory and lingers after the sip as an after-taste.
Flavour: This clonal first flush Darjeeling tea undoubtedly has complex taste and floral notes which becomes prominent as we sip along. A light tea with mesmerizing complex sweet taste of wild flowers, hints of freshness makes this one of the most recommended clonal tea from us. A sweet floral taste is noted as an aftertaste which linger after the sip.
No of infusions: Two good infusions brewed at 5 minutes each.
Reasons to buy: Any clonal tea coming from this organic tea estate is a good enough reason to buy. The fact that it is made from pure AV2 cultivar, a rare and much sought after cultivar (only a handful of Darjeeling gardens successfully and consistently manufacture quality teas from this cultivar) makes it another reason to buy this tea. The rareness and availability in limited quantity makes it another reason to get ones share.

A luxurious tea for those who likes to pamper themselves with teas which are the best among its peers.
[tab name='Garden' icon="fa-pagelines"]
Avongrove tea estate is an organic tea garden located in Rungbong valley about 50km from Darjeeling town. The elevation where teas are grown is between 2200ft and 5700ft. Avongrove tea estate is famed for its range of signature clonal teas by the name of Imperial and Euphoria.
They are known to produce one of the best clonal teas and tops the chart as the best AV2 tea producer of the region.
Certifications:
JAS

USDA

India Organic

Rainforest Alliance
[tab name='Brewing' icon="fa-coffee"]
| | | | |
| --- | --- | --- | --- |
| | | | |
| 200ml filtered water | 85°C to 95°C | 2g to 2.5 g | 5 to 7 minutes |
[tab name="Shipping" icon="fa-gift"]
Order processing time 24-48 hours.

Free shipping for order total above USD110

Orders are shipped either by DHL, Fedex, UPS or Postal service.
[endtab]
Save this product for later