A selection of sample packs of Darjeeling teas from Darjeeling Tea Boutique. These packs may also be used as trial packs before your bulk purchase, a few precious cups of delicious experience of the world famous Darjeeling. The pack contains tea sealed in heat sealed triple layered pouches for your consumption.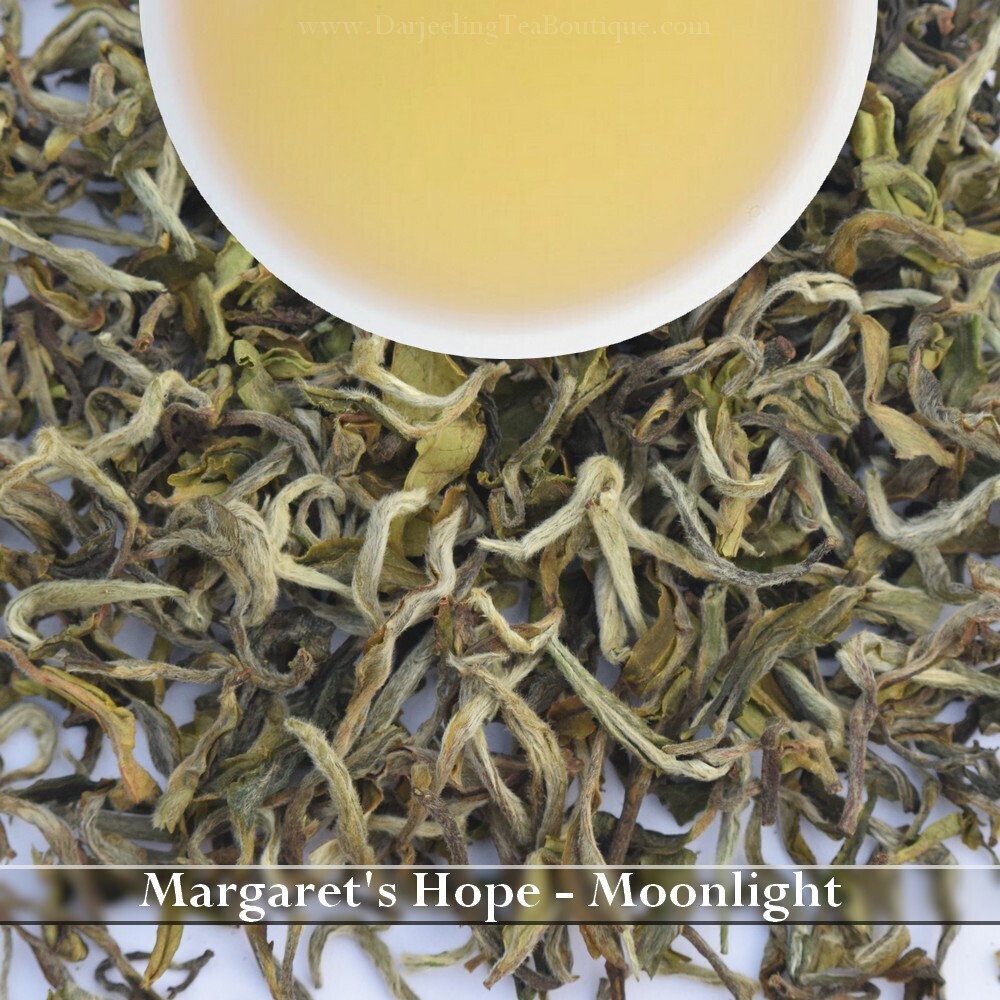 SAMPLE | MARGARET'S HOPE - MOONLIGHT
SKU FFMHML22 10g
Product Details
[tab name='Details' icon="info"]
SKU: FFMHML22
Origin: Darjeeling, India
Type: Black Tea
Cultivar: 100% AV2
Grade: Moonlight
Garden: Margaret's Hope
Flush: First Flush
Year: 2022
Weight: 10g (0.35 ounce) [4 to 5 cups]
Manufactured: Mid March 2022
[tab name='Description' icon="fa-align-justify"]
Dry Tea Leaf:

Appearance: The tea consists mainly of wooly aromatic buds and fuller leaves reminiscent of himalayan flowers characteristic of AV2. This is the epitome of a great first flush Darjeeling tea. The thick silvery buds signify the health of the tea bush from which this special tea is manufactured.
Fragrance: Dry leaves have a sweet floral fragrance coupled with other wild flowers and fruits characteristic of a well made AV2 clonal tea.
Liquor:
Appearance: Brighter shades of light sparkling light lemon.
Fragrance: Distinct fragrance of Himalayan flora and other wild flowers is noted and can be felt as soon as we take the sip which engulfs the olfactory and lingers after the sip.
Flavour: It's a floral delight. Greeted by sweetness of tropical fruits, delicately mellow and hints the taste of ripe pulpy north Indian mango after the sip. The taste settles subtly as that of sweet herbs and spices which seems to cajole the senses along with the floral fruity finish. A top notched tea from the brand Margaret's Hope.
No of infusions: Two good infusions brewed at 5 minutes each.
[tab name='Garden' icon="fa-pagelines"]
Margaret's Hope formerly known as Bara Rington, is a tea estate located in the northern valley of Kurseong of the Darjeeling disctrict. The elevation of the garden is 2800feet to 5500feet. Moonlight is their signature production.
They are known to produce one of the best china cultivars and tops the chart as the best AV2 tea producer of the region.
Certifications:
Rainforest

ETP

UTZ

FSSC 22000
[tab name='Brewing' icon="fa-coffee"]
| | | | |
| --- | --- | --- | --- |
| | | | |
| 200ml filtered water | 85°C to 95°C | 2g to 2.5 g | 5 to 7 minutes |
[tab name="Shipping" icon="fa-gift"]
Order processing time 24-48 hours.

Free shipping for order total above USD110

Orders are shipped either by DHL, Fedex, UPS or Postal service.
[endtab]
Save this product for later