A selection of sample packs of Darjeeling teas from Darjeeling Tea Boutique. These packs may also be used as trial packs before your bulk purchase, a few precious cups of delicious experience of the world famous Darjeeling. The pack contains tea sealed in heat sealed triple layered pouches for your consumption.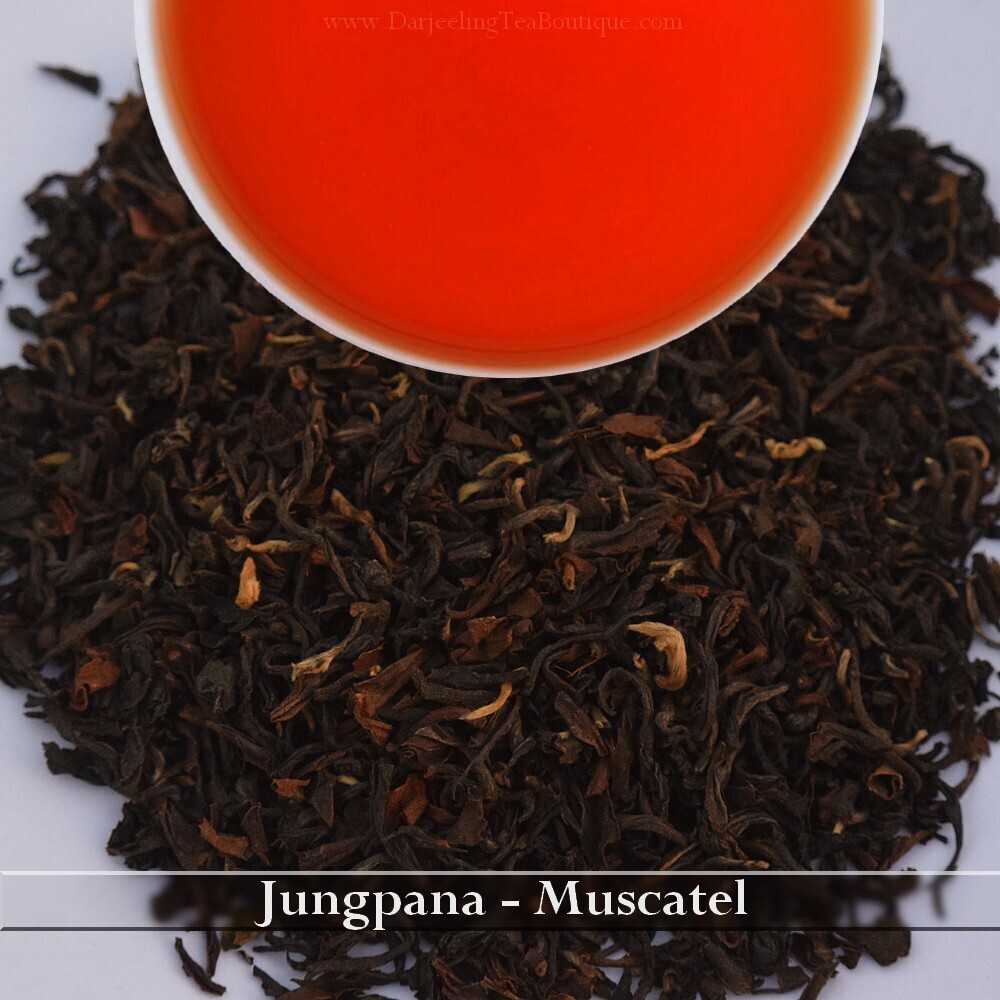 SAMPLE | JUNGPANA MUSCATEL
SKU SFJP21 10g
Product Details
[tab name='Details' icon="info"]
SKU: SFJP21 10g
Origin: Darjeeling, India
Type: Black Tea
Cultivar: China Cultivar
Grade: SFTGFOP1 - Musk
Organic: 100% Organic
Garden: Jungpana
Flush: Second Flush
Year: 2021

Weight: 10g (0.35 ounce) [4-5 cups]

Manufactured: June 2021
[tab name='Description' icon="fa-align-justify"]
Dry Tea Leaf:

Appearance: This is a typical Jungpana tea, a tea that makes Jungpana famous for. The leaves have that perfect bloom with the presence of plenty of golden tips and are roasted well enough which promises a good cup with a genuine muscatel characteristics. Colour is predominantly bright brown and has vibrancy as it shines. Presence of golden-tips accentuates the looks of the tea and add flavour to the finished tea leaves. Leaves have a natural sweet musky and floral notes.
Fragrance: Dry leaves have a sweet muscatel fragrance coupled with fruity notes.
Liquor:
Appearance: Brighter shades of the late sunset.
Fragrance: The tea has fragrance of natural musk, coupled with sweet floral fruity notes.
Flavour: A strong bold sweet musky taste which is typical of Jungpana, coats the entire palate. The vibrant caramelized taste coupled with pleasant astringency, engulfs the olfactory which is felt long after the sip. Muscatel flavour is distinct in the cup. This is a perfect tea for those looking for a strong cup of muscatel tea from Darjeeling.
No. of Infusions suggested: 2

[tab name='Garden' icon="fa-pagelines"]
Jungpana is an organic tea garden located in the Kurseong valley and is prized for its top graded teas world over. It is famous for both the clonal teas as well as for its Chinary cultivar teas. This organic garden is at an elevation of 1000 meters to 1500 meters.
Certifications:
[tab name='Brewing' icon="fa-coffee"]
| | | | |
| --- | --- | --- | --- |
| | | | |
| 200ml filtered water | 90°C to 95°C | 2g to 2.5 g | 3 to 5 minutes |
[tab name="Shipping" icon="fa-gift"]
Order processing time 24-48 hours.

Free shipping for order total above USD110

Orders are shippeed either by DHL, Fedex, UPS or Postal service.
[endtab]
Save this product for later