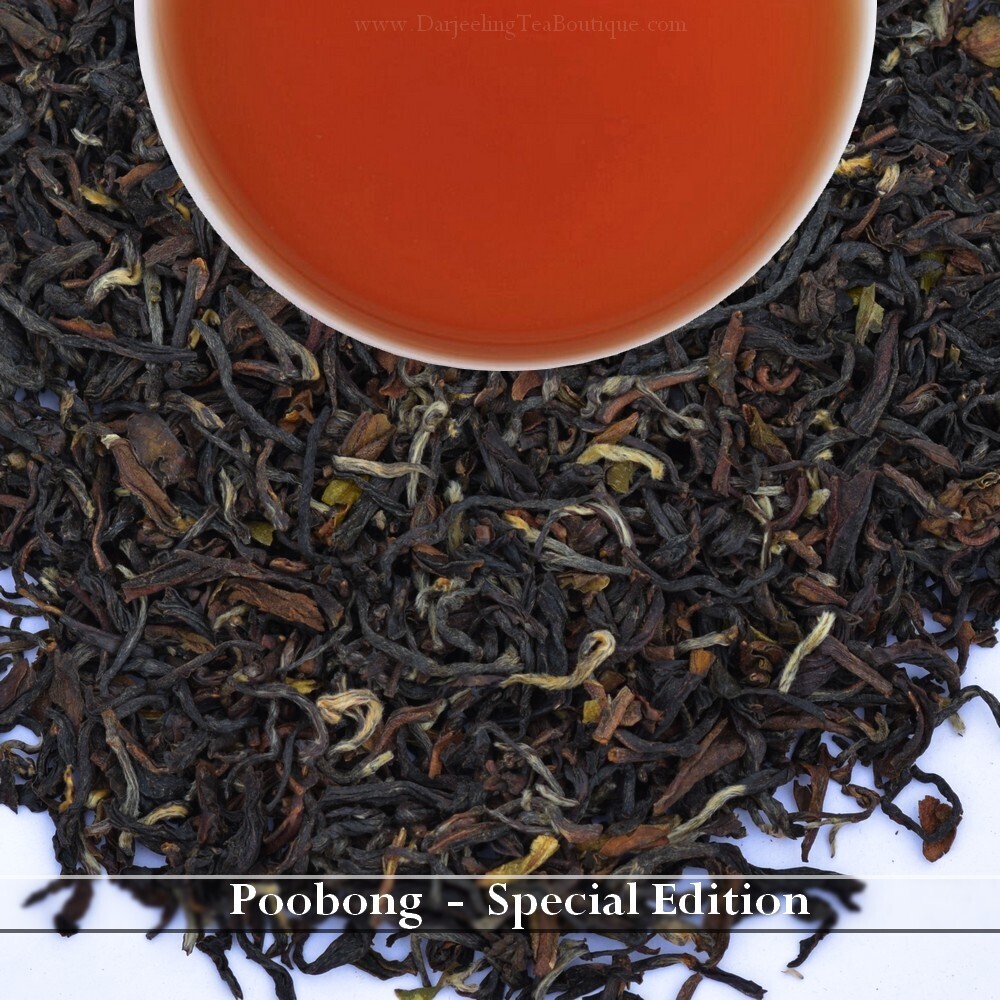 POOBONG SPECIAL EDITION
SKU SFPB21
Product Details
[tab name='Details' icon="info"]
SKU: SFPB21
Origin: Darjeeling, India
Type: Black Tea
Cultivar: China Cultivar
Grade: SFTGFOP1 - Musk
Organic: 100% Organic
Garden: Poobong
Flush: Second Flush
Year: 2021
Weight: 100g (3.52 ounce) [40-50 cups]
Manufactured: May 2021
[tab name='Description' icon="fa-align-justify"]
Dry Tea Leaf:

Appearance: This tea garden is known as a dark horse which springs in a surprise once in a while. It's a traditional tea production as is expected from the Darjeeling hills made from tea leaves of pure chinary cultivar. The tea is well made and has been roasted perfectly. The presence of bloom in the finally made tea and that of scattered golden tips, promises the depth in character.
Fragrance: The dry tea smells like a potpourri. Floral, spicy and herbal fragrance along with notes of musk cajoles the senses.
Liquor:
Appearance: Clear brighter shades of the deep sunset.
Fragrance: Fragrance of muscatel coupled with warm and soothing spicy notes are dominant in the liquor.
Flavour: This tea has multifaceted taste and other complex tastes along with notes of musk which overwhelms the taste profile. The taste of strong musk is felt when sipped which has pleasant astringent taste. The layers of musk like taste and other complex notes waxes and wanes and engulfs the olfactory in its pleasantness. The pleasant taste of astringency vanishes gradually and what remains is the sweet taste of musky taste teasing one facet of your senses after the other.
After a long time, Poobong has been able to weave its magic once again.
No. of Infusions suggested: 2
[tab name='Garden' icon="fa-pagelines"]
Poobong is high elevation organic tea garden located 94 km from Siliguri. An organic garden located at an elevation os 3000 ft to 5ooo ft, has stringent organic practices and is know for its unique flavourful teas. This tea garden is famed for both its first flush ans second flush teas.
Certification:
[tab name='Brewing' icon="fa-coffee"]
| | | | |
| --- | --- | --- | --- |
| | | | |
| 200ml filtered water | 90°C to 95°C | 2g to 2.5 g | 3 to 5 minutes |
[tab name="Shipping" icon="fa-gift"]
Order processing time 24-48 hours.

Free shipping for order total above USD110

Orders are shippeed either by DHL, Fedex, UPS or Postal service.
[endtab]
Save this product for later