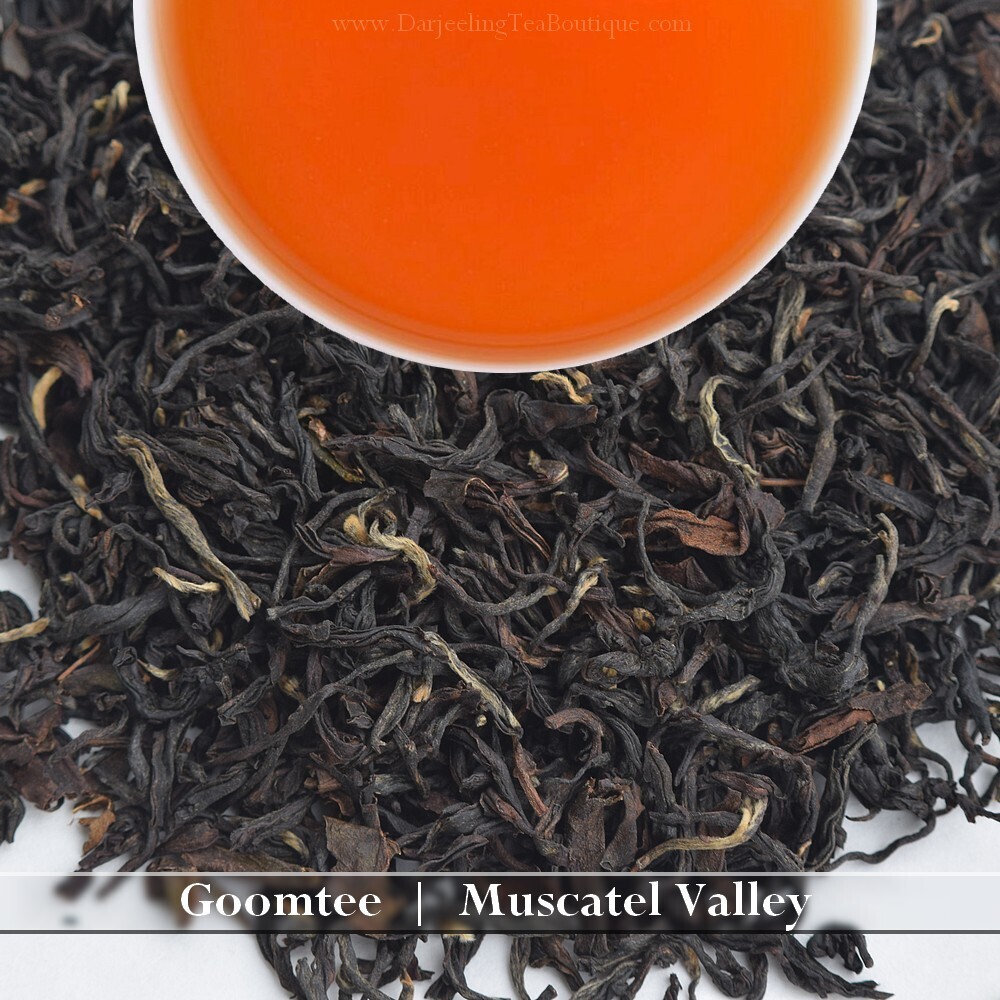 GOOMTEE MUSCATEL
SKU SFGT21
Product Details
[tab name='Details' icon="info"]
SKU: SFGT21
Origin: Darjeeling, India
Type: Black Tea
Cultivar: China Cultivar
Grade: SFTGFOP1 - Musk
Organic: 100% Organic
Garden: Goomtee
Flush: Second Flush
Year: 2021
Weight: 100g (3.52 ounce) [40-50 cups]
Manufactured: July 2021
[tab name='Description' icon="fa-align-justify"]
Dry Tea Leaf:

Appearance: Tea leaves of this fragrant Summer crop, from the famed Muscatel Valley of the tea garden, have lustrous shades of rich brown. The colour has shine and perfect bloom which reflects a well made second flush Darjeeling tea. The leaves are delicately rolled, perfectly roasted, and has a natural muscatel and sweet floral notes.
Fragrance: Dry leaves have a sweet muscatel fragrance coupled with fruity notes.
Liquor:
Appearance: Brighter shades of the late sunset.
Fragrance: Fragrance of natural muscatel notes are dominant in the liquor.
Flavour: The taste buds are greeted with mellow taste coating the entirety of the senses. The vibrancy of musky caramelized sweet taste is followed by a pleasant astringent bite which is typical of a second flush tea from Darjeeling. This taste lingers on for a long time after the sip. Goomtee Muscatel from the famed Muscatel Valley is a balanced tea with characteristics of both astringency and musky mellow teasing the taste buds.
No. of Infusions suggested: 2

[tab name='Garden' icon="fa-pagelines"]
Goomtee is a tea garden located in Kurseong, a sub division in Darjeeling. This garden with an elevation of 3000 ft to 600o ft,is famous for both the clonal teas as well as teas from China cultivar.
Certifications:
[tab name='Brewing' icon="fa-coffee"]
| | | | |
| --- | --- | --- | --- |
| | | | |
| 200ml filtered water | 90°C to 95°C | 2g to 2.5 g | 3 to 5 minutes |
[tab name="Shipping" icon="fa-gift"]
Order processing time 24-48 hours.

Free shipping for order total above USD110

Orders are shippeed either by DHL, Fedex, UPS or Postal service.
[endtab]
Save this product for later