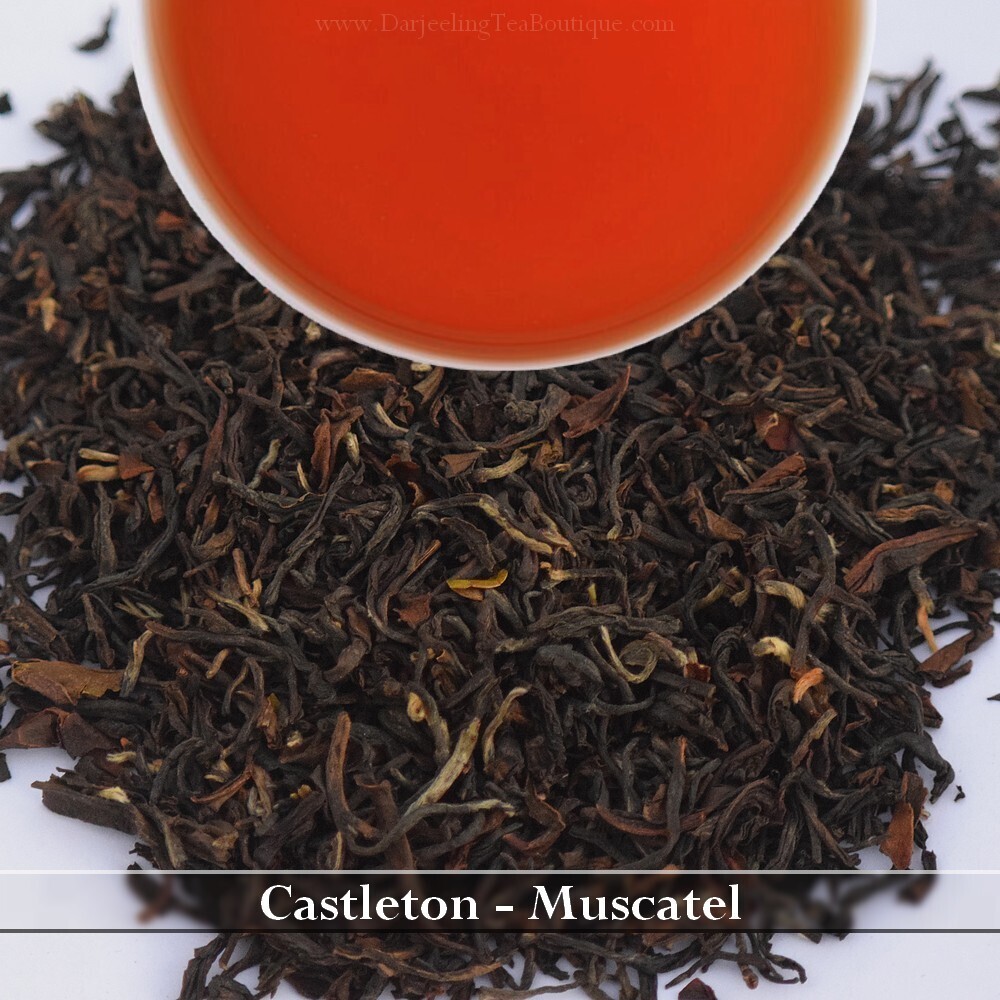 CASTLETON MUSCATEL
SKU SFCT21
Product Details
[tab name='Details' icon="info"]
SKU: SFCT21
Origin: Darjeeling, India
Type: Black Tea
Cultivar: China Cultivar
Grade: SFTGFOP1 Muscatel
Organic: Tending towards Bio Upgradation
Garden: Castleton
Flush: Second Flush
Year: 2021
Weight: 100g (3.52 ounce) [40-50 cups]
Manufactured: July 2021
[tab name='Description' icon="fa-align-justify"]
Appearance: The fresh tea leaves of this muscatel is full of aroma and is made up of small tender leaves consisting of the tip and the two buds. It smells of robust freshness and has that perfect bloom and are roasted well enough which promises a good cup with a genuine muscatel characteristics of the season. Colour is predominantly bright brown with golden tips to accentuate the looks.
Fragrance: Dry leaves have a sweet musky fragrance coupled with notes of malt and honey.
Liquor:
Appearance: Brighter shades of the late sunset.
Fragrance: Fragrance of muscatel coupled with unique sweetness peculiar to Muscatel teas along with floral notes are dominant in the liquor.
Flavour: The cup is rich and bold and has that vibrant sweet muscatel flavour which engulfs the senses the moment a sip is taken, echoing and mesmerizing every corner of your palate and olfactory. The taste is syrupy sweet like that of caramelized sugar along with intense fragrant deep toned musky notes. The flavours are felt instantly and the sensation of the godly muscatel aroma along with other complex Himalayan taste lingers for a while after the sip.
[tab name='Garden' icon="fa-pagelines"]
Castleton is the place where the best Muscatels are grown. This garden is located in South Valley of Kurseong, which has china bushes and is famed for the best Muscatels teas the world has known. This garden was formerly knwon as Kumseri. Elevation os this garden is from 100 meters to 2300 meters.
Certifications:
ISO 9002

ISO 9000

HACCP

ISO 22000

Rainforest Alliance

ETP
[tab name='Brewing' icon="fa-coffee"]
| | | | |
| --- | --- | --- | --- |
| | | | |
| 200ml filtered water | 95°C to 95°C | 2g to 2.5 g | 3 to 5 minutes |
[tab name="Shipping" icon="fa-gift"]
Order processing time 24-48 hours.

Free shipping for order total above USD110

Orders are shipped either by DHL, Fedex, UPS or Postal service.
[endtab]
Save this product for later